Rally against the Violations of V.H.N.Senthikumara Nadar College, Virudhunagar organized by Federation of All Teachers' Organizations, Virudhunagar District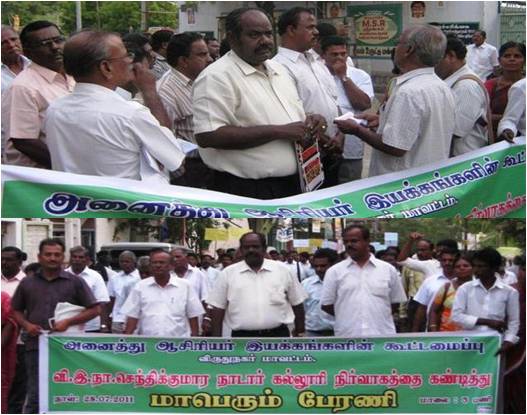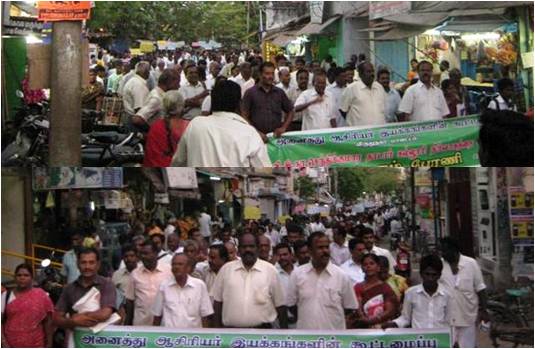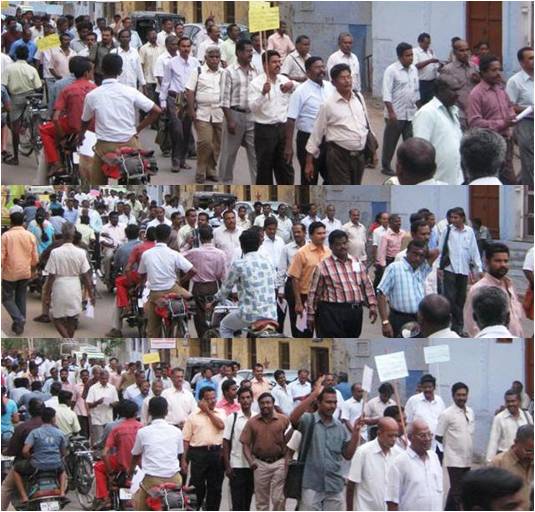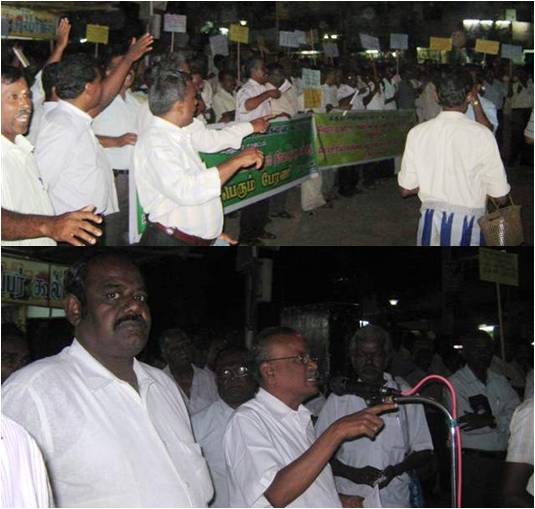 For the past ten months, the Virudhunagar Hindu Nadars' Senthikumara Nadar College, Virudhunagar has been taking several vindictive measures against the teachers and students, only because the teachers and students have opposed the undemocratic and authoritative attitude of the Principal and the College management in bringing autonomy to the college. The MUTA unit Secretary Prof.P.Mutharasu has been suspended from services from 15-06-2011 and three more teachers have been awarded with pay cut for availing leave on other duty, restricted holiday and medical leave. Ignoring all the Government rules and orders and keeping the Regional Joint Director in their hands, the management is harassing the teachers and students and has completely spoilt the academic atmosphere prevailing in this rural institution.
The Virudhunagar District Federation of All Teachers' Organisations has organized a rally in Virudhunagar on 28-07-2011 to highlight the atrocities of the VHNSN College management to demand the management to withdraw the actions initiated against Prof.Mutharasu and the pay cut orders issued to other three professors and to insist the Government of Tamilnadu to take action against the Regional Joint Director of Collegiate Education, Madurai Region for her collusion with the management and also requesting the University Grants Commission not to grant autonomous status to the college.
The rally was inaugurated by Mr.Sivaperuman, State Treasurer, Tamilnadu Retired School and College Teachers' Organisation. The rally started from MGR statue and Dr.N.Thenpandian, Zone President-MUTA presided over the rally in which more than 500 teachers, students and the members of fraternal organizations participated. A demonstration was held at the end of the rally, in front of old bus stand. Mr.Valluvan, Tamilnadu High and Higher Secondary School Graduate Teachers' Association, Mr.Murugesan, Tamilnadu Idainilai Aasiriyar Sangam, Mr.Veluchamy, Tamilnadu Private School Teachers' Association, Mr.Sankar Ganesh, Tamilnadu Primary School Teachers' Federation, Mr.Theni Vasanthan, Joint Council of Trade Unions condemned the arrogance of the college management and assured to offer all support to the future movements organized by Virudhunagar District Federation of All Teachers' Organisations to fight against the atrocities of the management. Mr.Subbaiah, State President, Tamilnadu Post Graduate Teachers' Association elaborated on the principles of autonomy and how the autonomy is implemented by the Central Government in a select States of India. He stressed the co-ordination of teachers, students and parents in fighting against the evils of privatization in higher education especially in a backward area like Virudhunagar. Prof.Kalyanaraman, Zonal Secretary thanked all the organizations of Virudhunagar District Federation of All Teachers' Organisations and other fraternal organizations.