The Association of University Teachers (AUT) will launch indefinite strike from December 15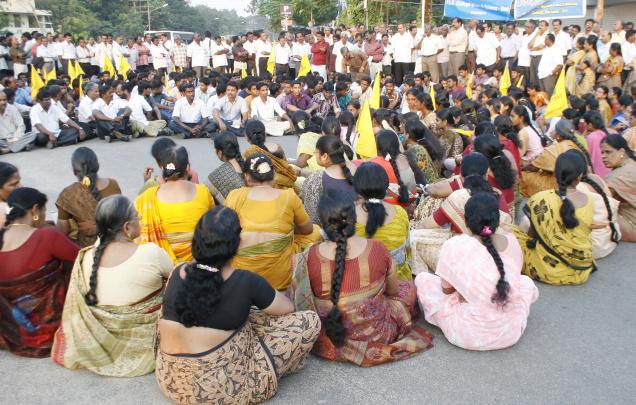 Members of the AUT protesting against the move to convert aided colleges into unitary universities
University teachers to launch indefinite strike from December 15
The Association of University Teachers (AUT) will launch indefinite strike from December 15 demanding immediate withdrawal of Bills to convert two government-aided institutions into unitary universities which, it alleges, will eventually lead to total privatisation of higher education.
At a press conference, AUT State president P. Jayagandhi said that the government was yet to withdraw the Bills to convert the PSG group of institutions in Coimbatore and Thiagarajar Colleges into unitary universities despite protest from students, teachers and public over the past three years.
When the Bills were introduced in the Assembly, all parties barring the ruling party, protested. The bills were referred to the select committee, which itself was a rarity. When the select committee visited Coimbatore, over a thousand people stood in protest and showed dissent. "The select committee will again meet on December 14. It is a do-or-die battle for students and teachers. AUT will observe a fast on December 12 in Chennai, followed by picketing of the Directorate of Collegiate Education the next day. On December 15, over 2,000 teachers of AUT in 70 government-aided colleges will go on an indefinite strike," he said.
After granting land and spending public money for decades, the government must never turn over the institutions to managements looking to commercialise education. Managements of aided institutions are waiting in queue and if PSG and Thiagarajar institutions get unitary status, the concept of public funded education will eventually come to an end, said S. Pannirselvam, general secretary, AUT. In Coimbatore, over 300 teachers and students led by PSG College of Arts and Science secretary V. Selvarajan staged a demonstration at the Red Cross Building junction, urging the government to dissolve the select committee.
The Madurai Kamaraj, Mother Teresa, Manonmaniam Sundaranar and Alagappa University Teachers Association members staged a demonstration in Madurai on Thursday against converting Thiagarajar College into unitary university.
http://www.thehindu.com/news/states/tamil-nadu/article941998.ece