"Entry of foreign universities flayed"- The Hindu- 27.08.2012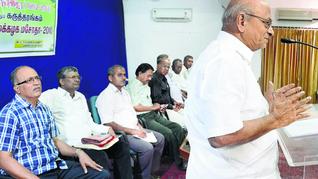 A word of caution:RajyaSabha MP T.K. Rangarajan speaking at the seminar
If this situation is allowed, higher education in India will be accessible only to the rich

Speakers at a seminar held here on Sunday on 'Foreign Educational Institutional (regulation of entry and operation) Bill, 2010' warned that the proposal would deny the poor higher education.
Former president of AIFUCTO, A. James Williams said Union Minister for Human Resources Development Kapil Sibal, who was vehemently supporting the Bill under the pretext that the entry of foreign universities would increase the gross enrolment ratio in higher education from the existing 12 per cent to 25 per cent, had hidden the fact that these universities, meant for the elite group, would be beyond the reach of students from ordinary families.
Students from affluent families, who could not join leading educational institutions of the country such as Indian Institute of Technology or Indian Institute of Management due to their poor academic record, preferred to join these foreign universities as they were able to pay the exorbitant tuition and other fee prescribed by these institutions.
Sensing the enormous potential in the hitherto untapped higher education segment of India, foreign universities were making repeated attempts to make a backdoor entry into the country with the help of United Progressive Alliance Government.
"If the Union and the State Governments allocate adequate funds for creating the required infrastructure facilities in government colleges and in State universities without charging exorbitant tuition fee, it will naturally attract more and more poor students, particularly from rural areas, which will automatically increase gross enrolment ratio to unimaginable heights," Prof. James Williams said.
Rajya Sabha MP T.K. Rangarajan said the governments pursuing liberalisation, privatisation and globalisation policies since early nineties to kill local industries were making sustained efforts to systematically annihilate the country's higher education by allowing foreign universities for obvious reasons.
"If this situation is allowed to continue, higher education and healthcare in this country will be accessible only to the rich. So explain in detail all these serious issues to the students and take the protest against this proposed Bill at the national level so that it will persuade MPs to raise the issue in Parliament in a fitting manner," he said.
Inaugurating the seminar, secretary of AIFUCTO P. Jeyagandhi warned that the entry of foreign universities, "which would be accessible only to the elite," would cause yet another divide in the community between the rich and the poor.
General secretary of Madurai Kamaraj, Manonmaniam Sundaranar, Mother Teresa and Alagappa University Teachers' Association (MUTA) T. Manohara Justus said the 2.50 lakh-odd Indian students joining foreign countries every year and their huge spending had attracted the foreign universities towards India.
Former MLA R. Krishnan of CPI (M) said time had come to start yet another swadeshi movement against the Union Government's plans to facilitate the entry of foreign universities into the country. President of MUTA S. Vivekanandan, treasurer, MUTA S. Subbaraju and All India Bank Employees Union office-bearer Arumuga Nainar spoke. Teachers from various colleges and universities participated.
http://www.thehindu.com/todays-paper/tp-national/tp-tamilnadu/article3826252.ece